EMMA – An Archive Focussed on Reduction and Refinement
The European Mouse Mutant Archive (EMMA) is the primary mouse repository in Europe and the third largest of its kind worldwide. It is INFRAFRONTIER´s most important service – a smart, openly accessible platform for archiving and distributing thousands of mouse disease models.
By its very nature as a huge archive for medically relevant mutant models, EMMA is a strong tool to significantly reduce the numbers of animals used in mouse genetics experimentation. Researchers all around the globe can use it two ways:
Archiving: Biomedical researchers who have developed a mutant mouse strain modeling the specific characteristics of a human disease may deposit it in the EMMA archive. This ensures that it can be made available for the global Life Science community, avoiding `double breeding´ – and reduce the use of thousands of animals per year.
Distribution: A strain search in the EMMA database will show biomedical researchers whether there are models available that meet the specific requirements for their scientific inquiries. If so, they can directly order this mouse strain via the EMMA platform – thus saving a lot of research efforts, costs and animal usage.
Cryopreservation – Latest Technology to Support the 3R goals
EMMA's commitment to cryopreserving mouse lines is at the core of its activities. It underpins EMMA's support for the principles of the 3Rs: replacement, reduction and refinement.
EMMA implemented a number of measures which constitute a refinement of experimental procedures in the handling of animals. All of the resources available through the EMMA network are easily accessible and made visible via the INFRAFRONTIER website. Moreover, EMMA strongly promotes the shipment of frozen material in an attempt to minimize the welfare issues associated with the movement of live mice. Read more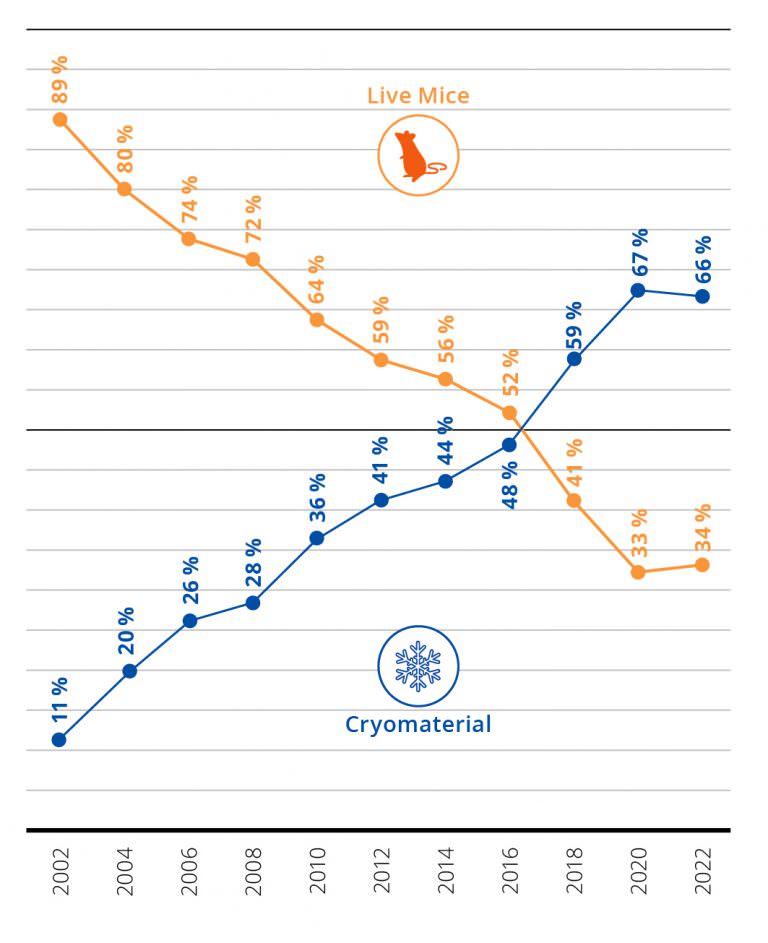 Moreover, if live mice are sent to or are requested from the archive, EMMA ensures that mice are shipped according to conditions that comply with LASA (Laboratory Animals Science Association) guidelines
EMMA also endorses the ARRIVE (Animal Research: Reporting In Vivo Experiments) guidelines that are intended to improve the reporting of animal experiments.Previous work by the NC3Rs showed that many publications reporting publicly funded animal research from the UK and US lacked key information on how the study was designed, conducted and analysed, which could limit their value in informing future scientific studies and policy. The guidelines have been developed by the NC3Rs to improve standards of reporting and ensure that the data from animal experiments can be fully evaluated and utilised. The guidelines are primarily aimed at scientists writing up their research for publication and for those who are involved in peer review.
Page last modified: 14 June 2021