The European Mouse Mutant Archive – EMMA
With more than 8700 mutant mouse strains and a small but increasing number of rat mutant strains available, EMMA is the primary mouse repository in Europe and the third largest non-profit repository worldwide.

The European Mouse Mutant Archive – EMMA
The European Mouse Mutant Archive – EMMA is a non-profit repository for the collection, archiving (via cryopreservation) and distribution of relevant mutant mouse and rat strains essential for basic biomedical research. The laboratory mouse is the most important mammalian model for studying genetic and multi-factorial diseases in man. The comprehensive physical and data resources of EMMA support basic biomedical and preclinical research, and the available research tools and mouse/rat models of human disease offer the opportunity to develop a better understanding of molecular disease mechanisms and may provide the foundation for the development of diagnostic, prognostic and therapeutic strategies. EMMA is a founding member of the Federation of International Mouse Resources (FIMRe).
Up to 500
Shipments per year
8700
Archived strains available
3rd largest
Non-profit mouse repository
50 countries
Users spread over the globe
The Scientific User Support Team may be addressed bayvar, and its scientifically trained team can offer different levels of support to all interested users.
EMMA is supported by the partner institutions, national research programs and by the EC's Research and Innovation programme Horizon 2020 (H2020-EU.1.4.1.1. Developing new world class research infrastructures).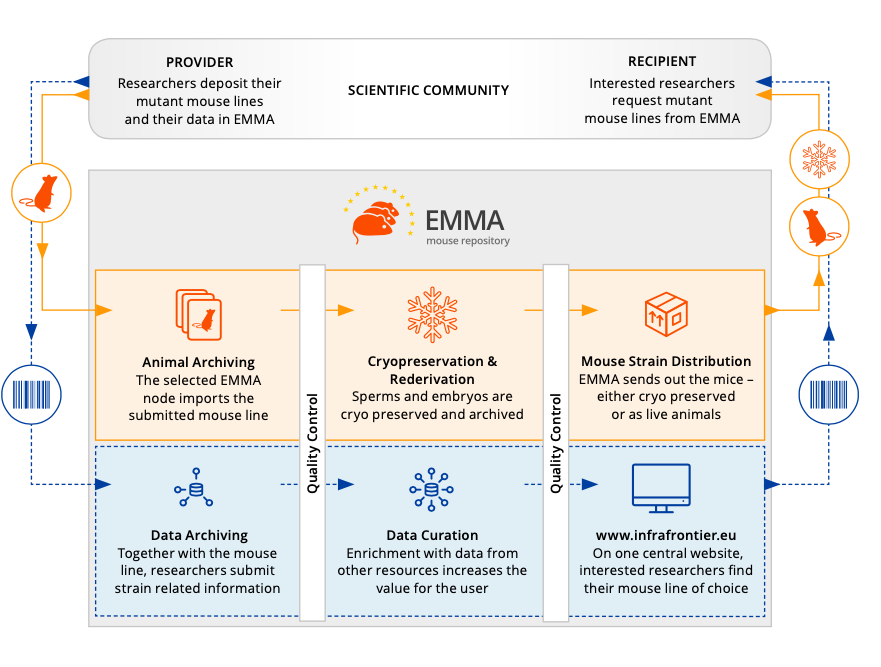 EMMA Objectives
EMMA's primary objective is to establish and manage a unified repository for maintaining medically relevant mouse and rat mutants and making them available to the scientific community. Therefore, EMMA archives mutant strains and distributes them to requesting researchers. EMMA also hosts courses in cryopreservation to promote the use and dissemination of frozen embryos and spermatozoa. Dissemination of knowledge is further fostered by a dedicated resource database.
EMMA Network
The EMMA network is a partnership of several laboratories and other institutions throughout Europe. The current membership includes:
EMMA is open for the incorporation of new members into the current network and detailed guidelines for this process are established.
The EMMA network is directed by Professor Martin Hrabé de Angelis who heads the Institute of Experimental Genetics and of the German Mouse Clinic (GMC) at the Helmholtz Zentrum München.  
Page last modified: 08 October 2021